Herefords Australia | December 11, 2013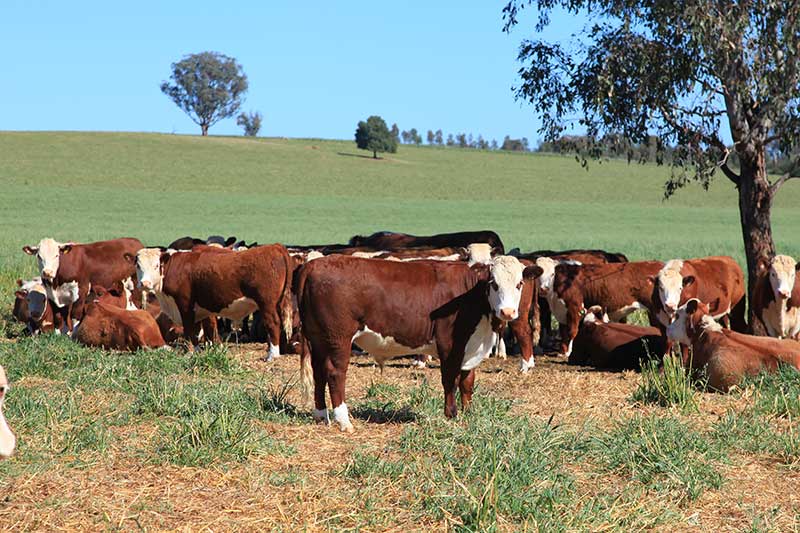 The recent kill and scan results from 39 head of Hereford steers continues to highlight the exceptional performance and meat quality that can be achieved from the Hereford breed, says Herefords Australia CEO John McKew.
The steers were part of Cohort 2 from the ongoing Herefords Australia/MLA Progeny Test (BIN) Project and produced excellent meat quality, Mr McKew said.
Backgrounded at Barn Hill, Meningie SA, the steers then went to Wanderribby feedlot, also at Meningie.
Processed at Thomas Food International (TFI) Murray Bridge, SA on 13 November, the steers were 19-20 months of age with an average feedlot entry weight of 438 kgs and an average feedlot exit weight of 648 kgs.
In the feedlot for 107 days, the steers recorded an average daily gain (ADG) of 2.0 kgs consuming 66,847 kgs of food with average consumption of 15.6 kgs/head/day to convert at the rate of 7.8:1 (non-HGP).
"75 per cent graded into Boning Groups 1 & 2," Mr McKew said.
"The balance graded into boning groups 3 & 4 and 25 per cent achieved AusMeat marble score 2 while all others recorded marble score 1."
EMAs recorded by the chiller assessor are not yet available however ultrasound scanning results indicated an average EMA of 80 sq cm and IMF per cent 6.0.
Grid price received averaged out at $1,344 per head. On a per kg basis the price equated to $3.80 which for non EU-accredited cattle was a great result.
Mr McKew went on to say that when it comes to feedlot performance and meat quality, Herefords were at the top of the beef game.
"The commercial sector of the industry is always seeking to improve performance and profitability," Mr McKew said.
"The results from this recent cohort of Hereford steers from our Progeny Test (BIN) Project highlight once again what Herefords can achieve for the commercial sector," he said.
"When it comes to ADG, feed conversion and producing that all important meat quality, you can't surpass Herefords."
For details of the sires of the Cohort 2 steers, Click Here