Herefords Australia | October 31, 2014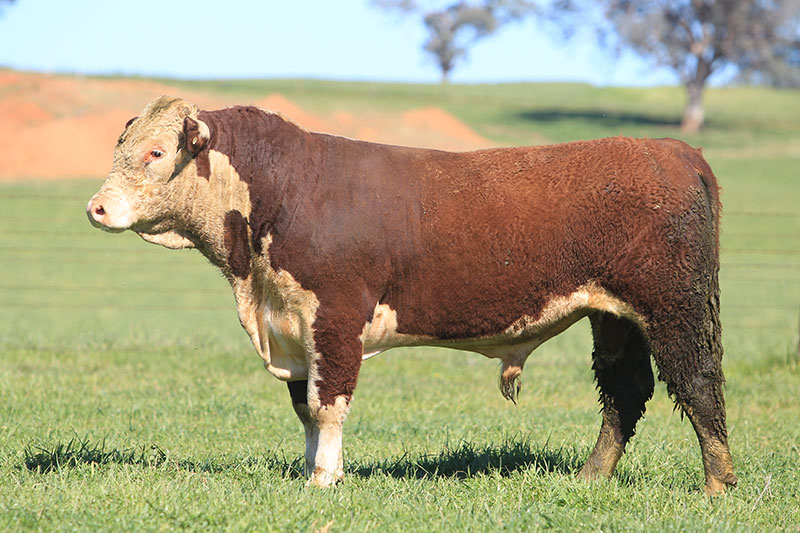 Purebred Hereford steers rigorously evaluated for carcass data have consistently graded in the top 10 per cent for eating quality under the new Meat Standards Australia (MSA) Index.
Seven consignments totalling 438 steers from the large-scale progeny test program conducted by Herefords Australia were slaughtered from July 2012 to August 2014 to record an average MSA Index of 62.41.
The average MSA Index for all cattle MSA graded for the 2013/14 financial year, which reached a record of over three million head Australia wide, was 56.77, as reported in the MSA Annual Outcomes report 2013-14.
Herefords Australia commercial development officer Liz Pearson said this result put the progeny test steers in the top 10 per cent of all cattle MSA graded Australia wide for MSA Index.
"This is an outstanding result for Hereford cattle in the beef industry,'' Ms Pearson said.
The progeny test program is conducted with funding from Meat and Livestock Australia Member Donor Company (MDC) under the Beef Information Nucleus program.
Up to 50 young Hereford bulls of high genetic merit are being progeny tested across four different cohorts using 12 co-operator herds from Queensland to South Australia.
Herefords Australia chief executive officer John McKew said the first three cohorts represented a $1.76 million investment by Herefords Australia and Meat and Livestock Australia.
The project has been extended to a fourth cohort, which is projected to cost $500,000, with the final drop of calves due to be born next autumn.
"This project will help us accelerate our rate of genetic improvement of the breed, identify sire's progeny expressing performance and carcass quality, and improve the robustness and accuracy of BREEDPLAN data,'' Mr McKew said.
Blood samples are collected from all progeny as a source of DNA information for the validation of genomic-based technologies and sire conformation.
Meat samples are collected and analysed by the University of New England Meat Science lab for tenderness, marbling, cooking loss and meat colour.
In the latest consignment, 120 2013-drop steers from cohort three were fed for 71 days at the University of New England's Tullimba Feedlot near Armidale, NSW, and processed in August at John Dee's plant, Warwick, Queensland.
Liz Pearson said 12 per cent of these steers graded in the top one per cent for MSA Index.
"Eighty per cent of these steers were in the top 10 per cent of all cattle MSA graded Australia wide for MSA Index,'' Ms Pearson said.
The final steer portion from cohort three is due to be slaughtered late December.
Meat and Livestock Australia program manager for eating quality Alex Ball said the Hereford BIN program clearly shows the breed's genetic potential to deliver cattle into the highest percentile across Australia.
"The MSA Index has been designed to provide a measure of eating quality potential of cattle – it is a tool enabling beef producers to target management and genetic interventions that can really drive MSA compliance, and ultimately help beef brands deliver eating quality to Australian consumers,'' Dr Ball said.
"The MSA Index works across all breeds allowing commercial breeders to independently evaluate the performance of cattle.''
The MSA carcass feedback reports for all seven progeny test project consignments, along with the MSA Annual Outcomes Report 2013-14, are available in the Progeny Test Project tab on the Herefords Australia website.
Click Here to view the Progeny Test Project page.
If you require hard copies of any of the reports or would like to discuss the Progeny Test and the results contact Liz Pearson, Commercial Development Officer on (02) 6772 1399 or